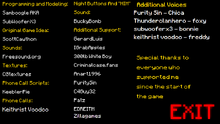 Five Nights to Remember has a multitude of people which helped the development of the game. To access the "Credits screen" in the game, go to the main menu and click "Credits".
Programming
Edit
The main developer is Samboogle, otherwise known as SubWooferX3. He modeled and programmed the game himself using Blender and Clickteam Fusion.
Buttons/text
Edit
Buckybomb made the buttons and text which is used in game.
Sounds are from Freesound.org, but some of the sounds are recorded
Phone Calls Edit
KeeblerPie wrote the phone calls, and thus created most of the games story with it.
However, KeithristVoodoo voiced the phone calls.
Additional Voices Edit
Purity Sin - Chica
Thunderclanhero - Foxy
SubWooferX3 - Bonnie
KeithristVoodoo - Freddy
Additional Support
Edit
GerardLuis
IGrabApples
300Lb White Boy
Criminalcase.fans
Anart1996 (developer of Five Nights at Treasure Island)
PuritySin
C4Guy32
Patz
EDREITM
Zillagames
Ad blocker interference detected!
Wikia is a free-to-use site that makes money from advertising. We have a modified experience for viewers using ad blockers

Wikia is not accessible if you've made further modifications. Remove the custom ad blocker rule(s) and the page will load as expected.